Blue is a timeless color. It's one that we associate with essential parts of nature such as the sky and the sea, as well as enduring concepts such as nobleness, peace and good.
Among the many different designs of jewelry that you can find in my store, there are numerous kinds of blue stud earrings, featuring various shades of this color.
Have a look at some of the post earring models that I make in 2016: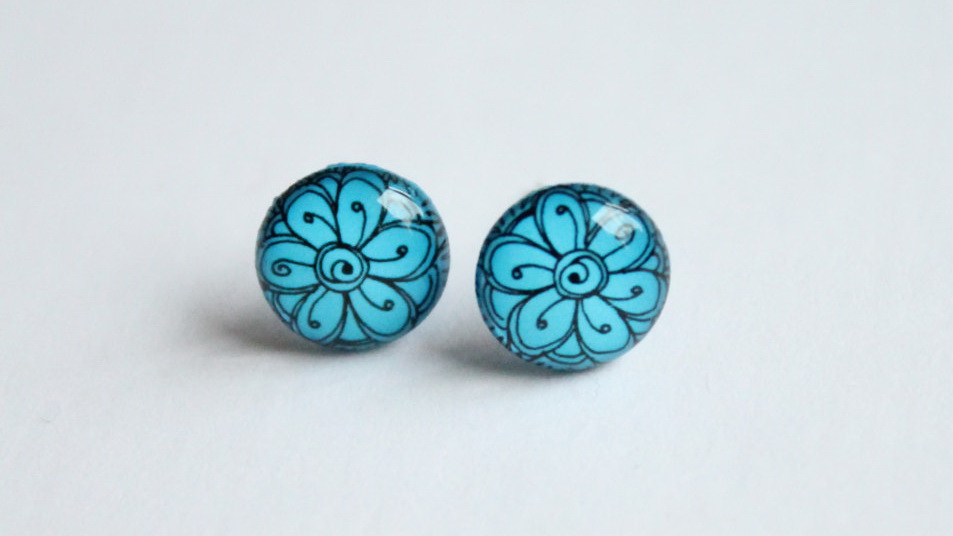 One of the more popular pairs of earrings among customers, this one has a vivid azure blue as its background. The inner contour is a replica of my own drawing and is a representation of a flower in Indian henna style. A very feminine and elegant design that will appeal to almost any woman who is looking for a pretty pair of studs to wear on a daily basis.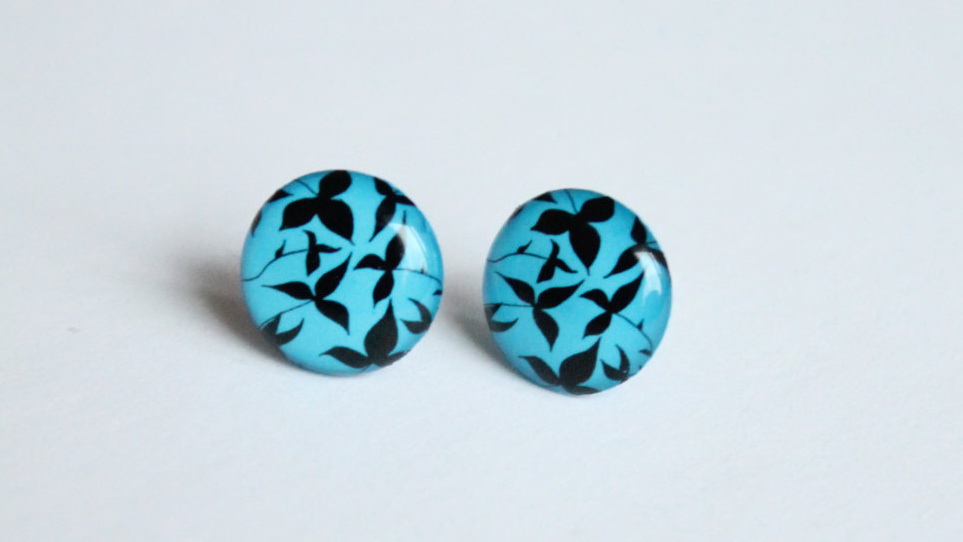 The design of these earrings is inspired by nature itself – it's based on my own drawing of leaves that I adopted for my jewelry designs. The result is a highly contrasted pattern of bright sky blue with the black of the leaves – a pattern that is definitely very noticeable in one's ear and is certain to attract attention. If you like natural patterns, then this might be a pair for you. Like most round earrings in my collection, these are only 10 mm in diameter (less than 2/5 inch), so even despite the contrasting colors, they will not look overbearing.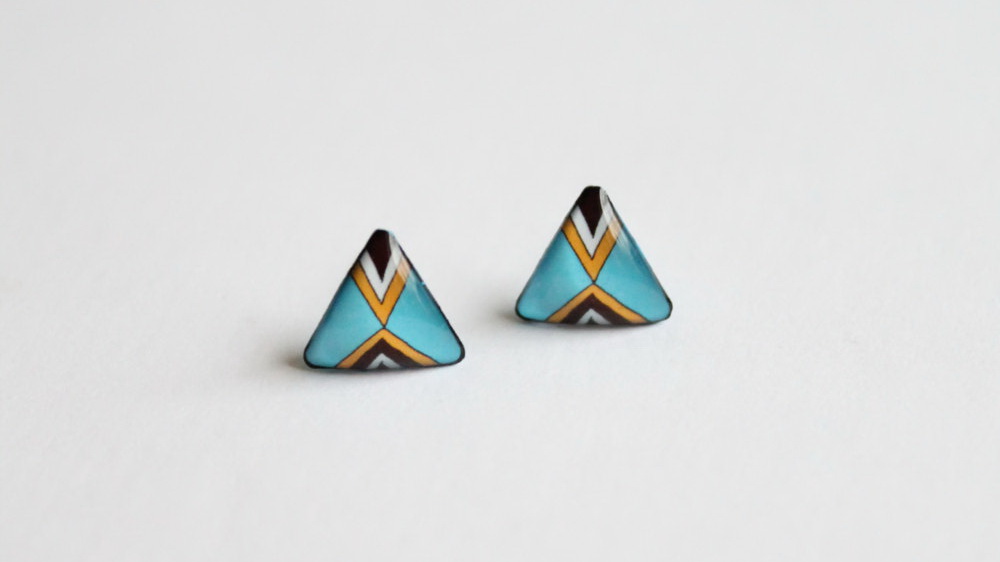 These blue triangle earrings are part of my geometric collection that has been very popular with my clients. The shape is modern and classy, and the vivid blue is complemented by the more down-to-earth orange, white and dark brown. This pair will certainly not go unnoticed and will surely get lots of compliments. Perhaps a bit more courageous than the other earrings in this collection, they will look good in your ears both on a night out as well as in a more mundane setting.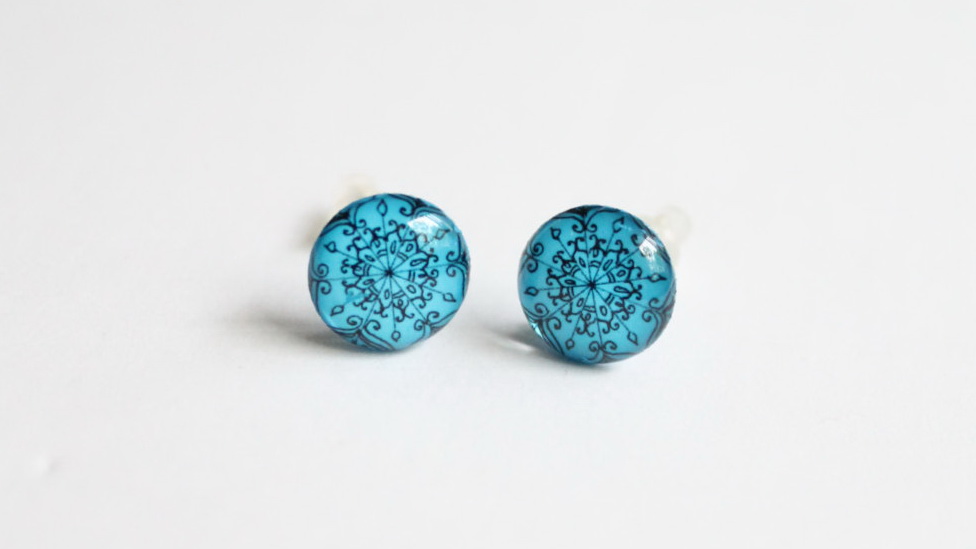 Now here's something for all you yoga fans and just about everyone who loves all things Indian. These earrings are based on my drawing of a mandala in henna style. The result is a highly intricate and detailed pattern that looks great from a distance but whose detail can only be discerned upon closer inspection. The floral nature of the pattern makes these earrings look very gentle and feminine – a bit like lace – and yet they are far from what one might call "sugary". The drawing is harmonious and pleasant to observe, which is all the more enhanced by the combination of black ink on a gentle blue background.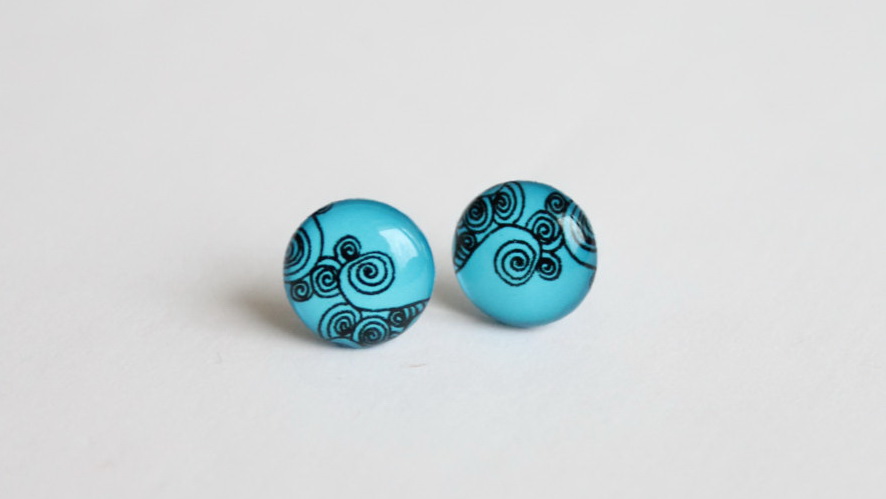 The swirly pattern of these stud earrings is used in quite a few designs that are available in my store and has been very well received by my customers. It's kind of modern and playful, a bit girly and a bit mysterious. Using the same bright shade of blue as some of the other earrings in this set, it features a nicely contrasting black outline for the curly motif. Expect many people to lean in to take a closer look at the earrings you are wearing.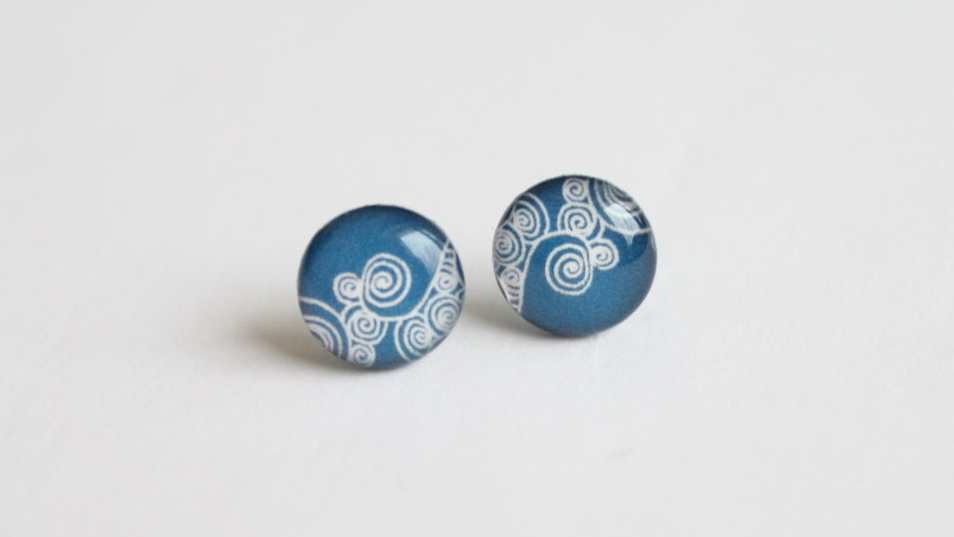 The same swirly motif as above has been adopted into a different design to produce this pair of studs. Perhaps a bit more modest and restrained, the main color component in these ones is a darker and gentler kind of blue. The black line has been replaced with a white one, resulting in a piece of jewelry that is an absolutely perfect companion for your jeans. Still modern, still playful, but simply not as loud as the bright blue pair.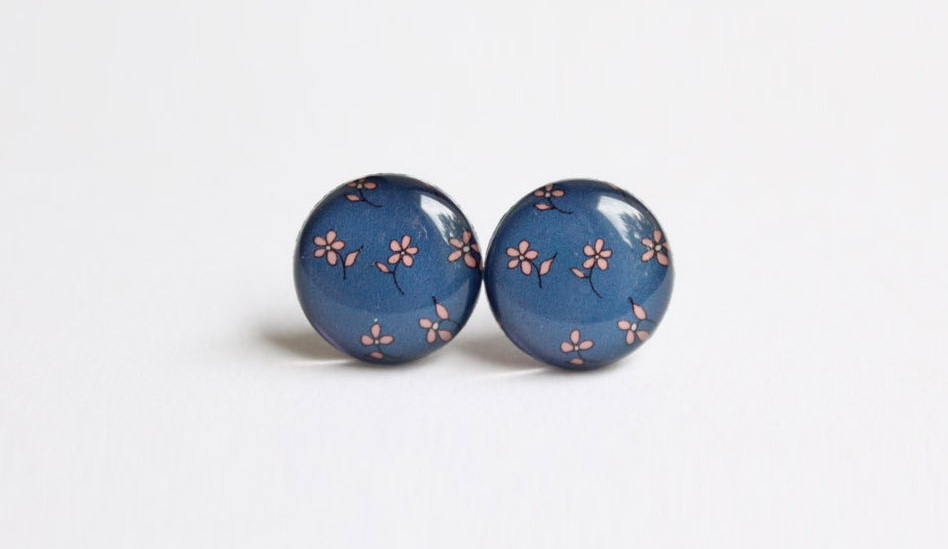 A nostalgic, dreamy design that will appeal to those who have a strong connection with their romantic side. The dark blue of these earrings is used to bring out the gentleness of the tiny light pink flowers dispersed seemingly randomly across the surface of the drawing. Lovable and non-pretentious, these post earrings could very well be your everyday pair and never get old.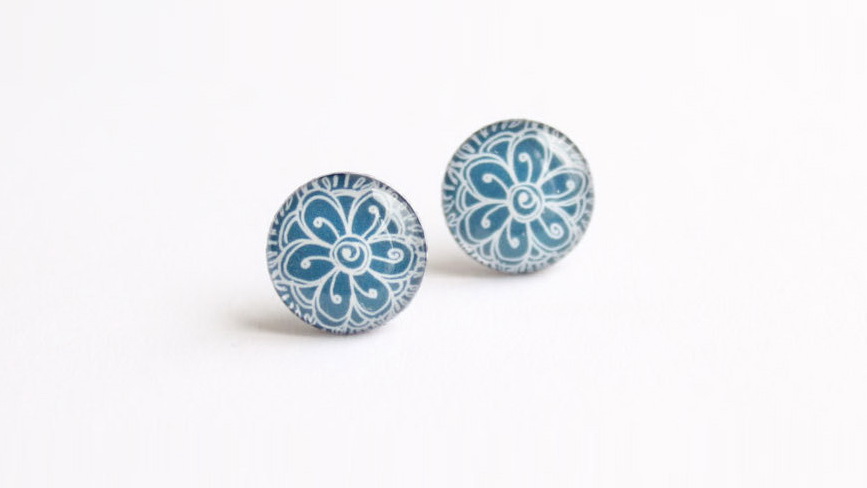 A different interpretation of the henna flower drawing that can be found in this collection. The background is a dark-ish, but not completely dark, blue, perhaps what could be called steel blue or cerulean. It's kind of withdrawn but mixes well with the white outline used for the floral pattern on top. The oriental influences come through in this earring design, but do not dominate. The overall impression from these earrings is peaceful, calm and feminine.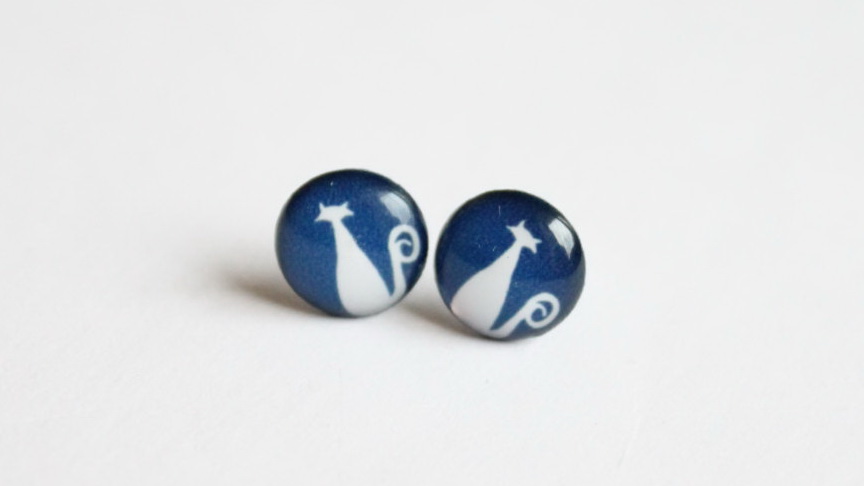 All right, cat lovers – this one is for you. This set of blue studs features a cat! This cat doesn't do much; it simply sits there and does nothing with its tail curled up in a kind of playful, kind of "don't care" way. It's not even entirely clear – is the cat looking at you or away from you. You know how mysterious and peculiar cats can be. So that one is up to you to decide. The dark navy blue that serves as the background for this pair brings forth the cat's white silhouette. Of course, this pair will work very well with any kind of jeans. So if you like cats, or even simply appreciate their independence and quiet vagueness, and are in for something quirky, then this model might be something you might consider having.
Like most items in my store, the post earrings in this collection are derived from my drawings. Reproductions of my drawings are covered with handicraft resin that gives the earrings volume, gloss and protects them from the elements. The earrings are somewhat waterproof – they should survive getting slightly wet when it's raining, but they should be taken off before showering.
If anything on this page catches your interest, click on the item to see more details about it. If you kind of like something but want some personalized modifications, get in touch with me and perhaps we can figure something out that's just right for you.