My collection of triangle earrings is one of the most sold and loved collections in my store. These cute little stud earrings bring style and color to the wearer without being too overpowering or excessively loud.
On the one hand, the triangular design of these earrings is very modern and highly fashionable. On the other hand, there is something very traditional, almost tribal and ethnic, about those angles, stripes and bright colors of these earrings.
The post earrings from this collection have the power to make your everyday outfit come alive in a subtle and tasteful manner and will also look great on your nights out.
Have a look at the exciting selection of items in this set for 2016: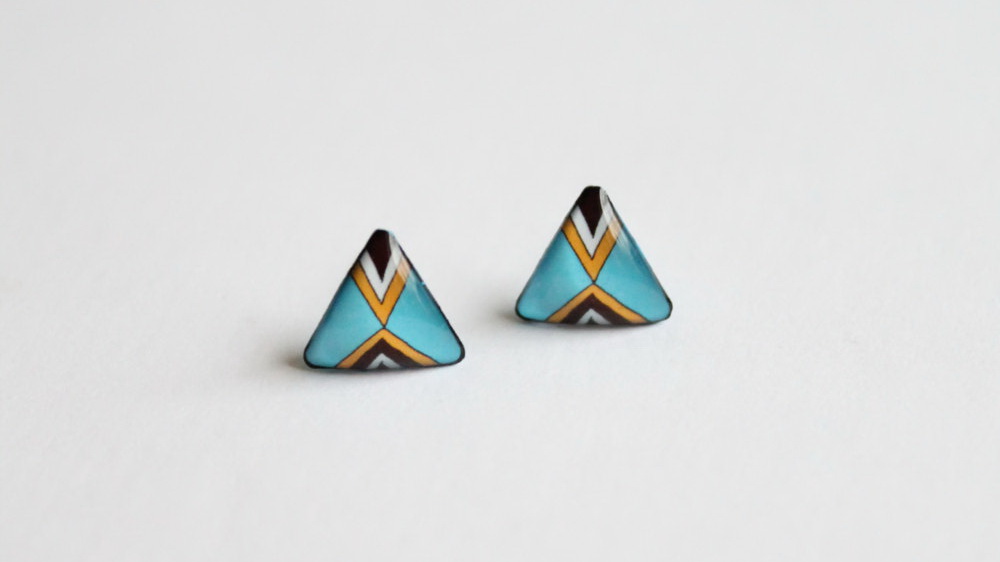 This is the very first design I created for this collection and a hugely successful one at that. This pair of earrings showed me that there is a true demand for this sort of colorful geometric jewelry sporting a basic triangular shape that is so much in fashion nowadays. Not too bright, not too bold, this pair uses a beautiful shade of blue that is reminiscent of the sky on a sunny cloudless day. The other colors are very traditional and simple: a stripe of warm orange, a stripe of plain white and a dark angular stripe of dark brown. Will work great with everyday clothing such as jeans, or simple dresses and blouses.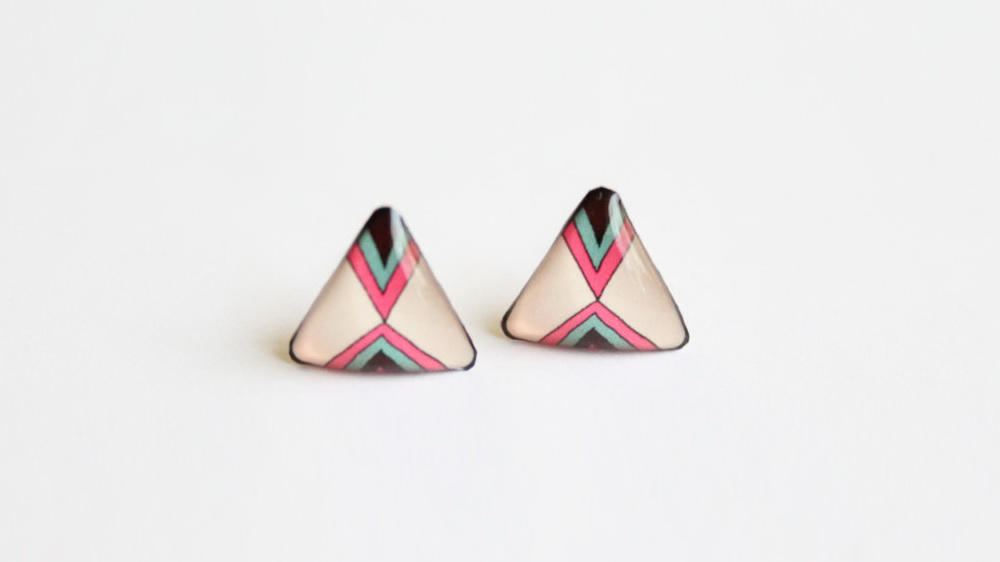 The above pair of triangle studs can be definitely called classy. There is something about their refined and chic nature that speaks of sophistication and upmarket fashion yet is still easy to wear without high heels or evening dresses. The most defining hue of this pair is an elegant ivory beige which is supplemented by stripes of neon pink, a mild blue-green or turquoise and a dark brown. On an interesting note, this specific design is slightly more difficult to produce than the other items in this series, due to the difficulty of preserving the purity of the main beige color component during production. In addition, this design is also very popular with shoppers. As such, it is more often out of stock than some other items, meaning there is somewhat of a natural exclusivity to this design.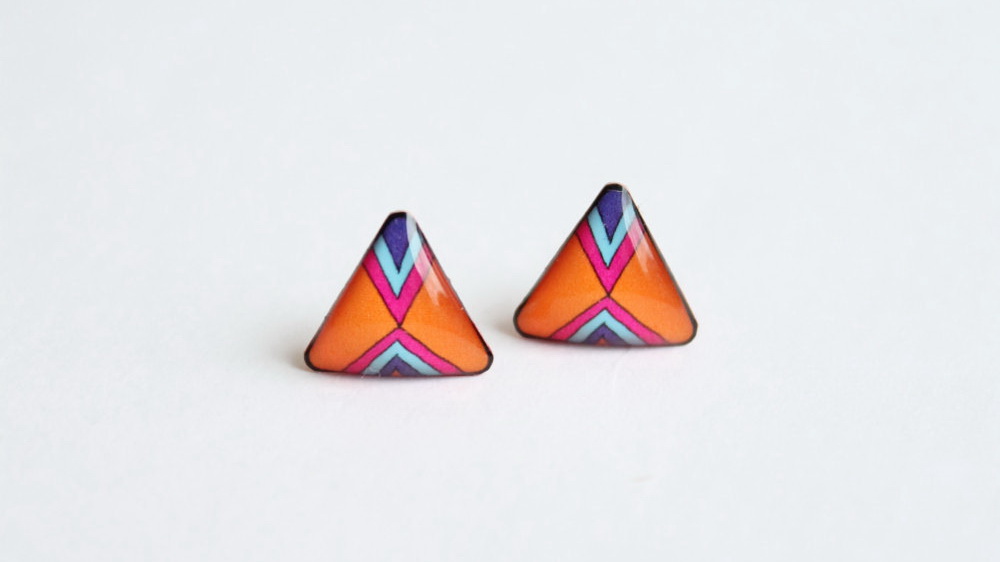 Bright and joyous colors make this couple of triangular stud earrings instantly stand out. The lively orange that comprises the main color component of this pair immediately brings forth pictures of juicy fruit, making one almost want to eat this pair. Perhaps more summery than the rest of the jewelry in this collection, this one will work great on bright sunny days with whatever dress or blouse one happens to be wearing. Let your happiness shine through with these little yummy cuties.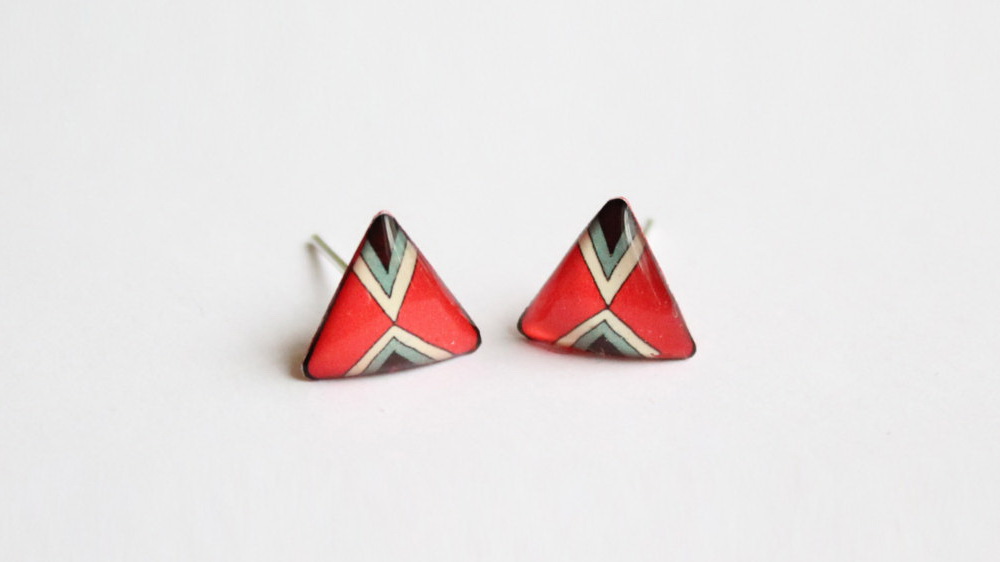 Red is a bold color and not everyone feels comfortable wearing vivid red earrings on a daily basis. These earrings however make it much easier to add this noticeable hue to one's appearance by softening it down with several fitting yet much less demanding colors: a very light beige that's almost white, a mild forest green and a very dark brown that borders on black. Given the colors, this pair of earrings works great as a Christmas gift or a Valentine's Day gift, but also for any other special occasion – almost every woman will appreciate their reserved boldness and charm. The geometric triangular shape will connect well with anyone who appreciates modern style and fashion and will also appeal to those who like to wear ageless traditional colors.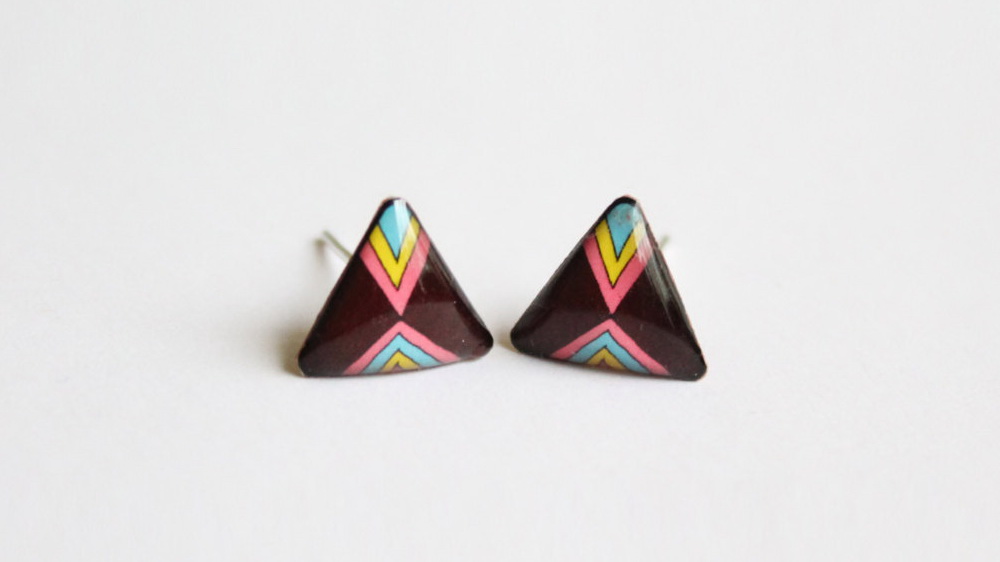 A very native or ethnic looking pair of post earrings, this one is extremely popular with people who like to maintain a modest down-to-earth look and still be recognized for a good sense of style. A great gift for any free-spirited lady, perhaps even for somebody who refers to themselves as Bohemian or hippie. A great pair to wear in any season – they will complement both a winter coat as well as a light summer dress.
This pair makes use of an earthy dark brown to convey modesty and simplicity and then makes it come alive with a mix of soft and gentle, almost pastel, light blue, yellow and pink. These colors immediately evoke images of traditional native wear from many parts of the world, for example Native American, and perhaps even of shamans and healers and their mysterious rituals.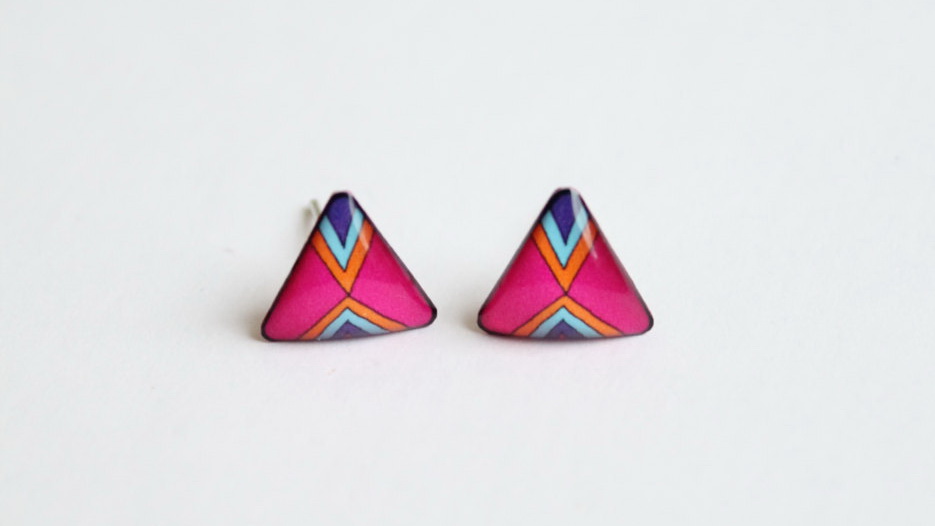 Vibrant stud earrings containing elements inspired by ethnic colors: brilliant blue, orange and purple on a lively magenta pink background – perhaps something of a Tibetan inspiration. You can be sure that this design will liven up any costume or outfit and invite plenty of positive attention.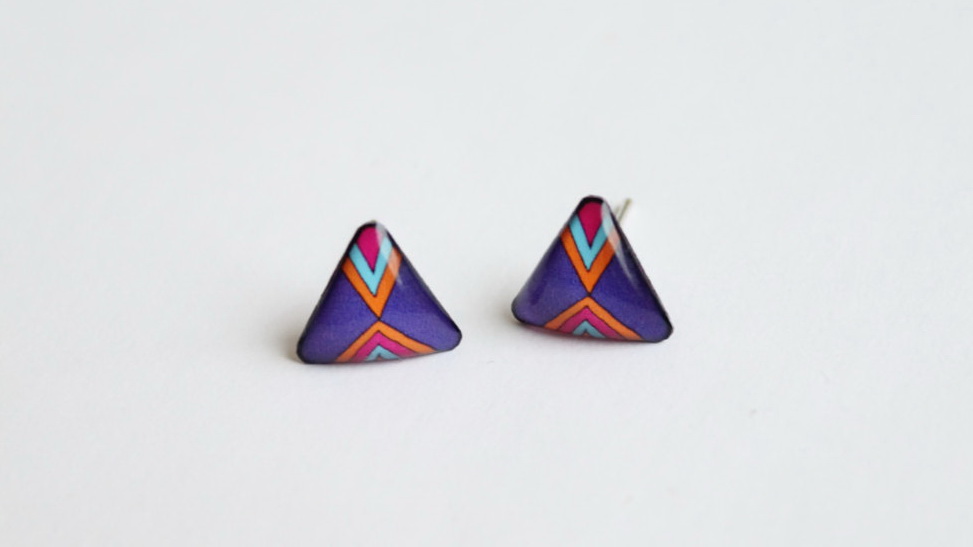 This pair is pretty and bold, with bright-colored stripes contrasted by a more modest background. In these earrings you will find a vivid orange, a gentle blue, a cute magenta and, of course, a dark purple to add a bit of seriousness to the otherwise playful color combination. This pair of triangle studs is a particularly great accessory to wear in fall and winter. They are not in-your-face bright and not dead serious either. You can expect these purple earrings to give you just the needed amount of color and cheerfulness on a rainy or snowy day without looking distasteful.
---
In case you're wondering, the shape of these earrings is an equilateral triangle, meaning that each of the three edges is of the same length: 10 mm (just under 2/5 inch). The corners are purposely rounded to avoid scratching the skin.
All of the items in this collection are based on my own drawing: if you look closely, you can see that the lines and the corners of the stripes are not 100% precise and sharp. That's because they were not designed in a computer program, but initially handdrawn. It's a minuscule detail, but I think it gives each item in this collection a true handcrafted feel. Many people have told me that I sell my earrings too cheap, because they have a really high-quality look and yet are on offer for a relatively inexpensive price.
I consider my earrings to be reasonably waterproof. This mean that you can wear them in a light rain, but it's best you take them off if it gets torrential and you don't have an umbrella

Similarly, showering or bathing while wearing them might not be a good idea.
Please have look at the items in this collection in my store. I ship worldwide by registered mail, so in general you'll have no problems receiving your items. Also, if you like a design, but there's a little something that you would like to have tweaked to make it really personalized for yourself, give me a shout and I might make a custom order for you!